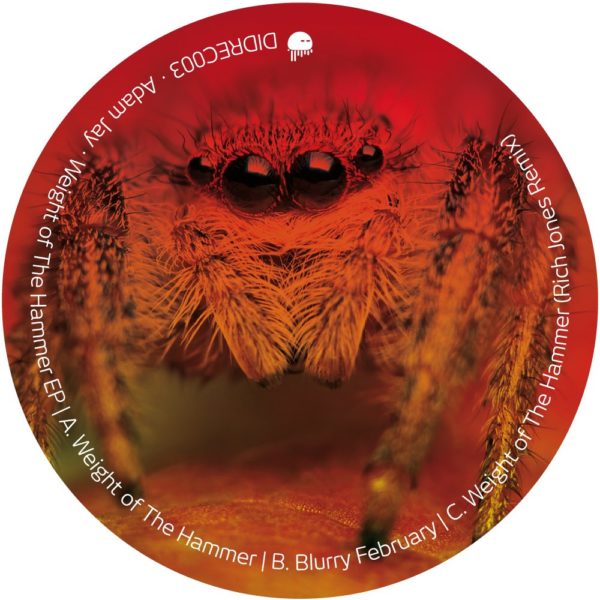 With their third release, Brazil's Different Is Different Records tap Midwest techno legend Adam Jay to sling some dirt on the techno groove.
Born and raised in Indianapolis, a city equidistant from Chicago and Detroit, has served Adam well, as he knows jack and soul in equal measure.  A prolific producer, with over 50 releases to his name, Adam is known the world over for tunes thick with groove, a solid foundation of rhythm and bass, and an implicit understanding of how to make a dancefloor sweat.  On this release, Adam drops  it proper Midwest style, fat and dirty and powered with double cheeseburgers and diesel fuel.
"Weight Of The Hammer" is a stripped-down funk tool built on subtle jack swing, with thick driving bass pushing the movement forward.  Throw in some blips, rub 'em in the dirt for a bit, and then let it all loose for maximum dancefloor effect.
Rich Jones' remix of "Weight Of The Hammer" is a slightly more laid-back groove affair.  Jones rearranges the original hook, but strips back the percussive elements even further, while stretching out the bass for some heavy weight and minimal funk.
Adam unleashes the chunky funk on "Blurry February" with a chugging bassline holding down the jack and snares slung around with a proper old school shuffle.  This is a percussive affair, with sounds playing off each other while still keeping a sense of space.  An absolute smasher of a breakdown plays echoed tones against a massive rise and fall, and then it's all dirt and drumfunk from there on out.
Adam Jay once again shows he can pull off an old school vibe with new school sounds for a banger of a release.  This isn't music for contemplation; this is music for shaking your ass in front of large speakers in a roomful of sweaty, happy people.
Words by DJ Shiva
Selected feedback
"Full support on Rich Jones Remix"
Richie Hawtin
(Minus)
"Jones' remix, nice and bare, works!"
Funk D'Void
(Soma)
"Rich mix is nice"
Alan Fitzpatrick
(8 Sided Dice, Drumcode)
"Like it the weight of the hammer original is my favourite"
Henry Cullen
(Mutate To Survive)
"Very Good"
Pedro Delgardo
(Ying Yang)
"Cool!"
DJ Murphy
(Definition Records)
"Good house/minimal. "
Sam Shaw (Australia)
(Kiss FM, World Bar, Mobius Night Club, Syrup Night Club, FXU promotions )
"great remix!!"
Andy Arias (Argentina)
(Dance n Dust Records, Kansak)
"Weight of the hammer for me !!!"
Matteo Monero (Italy)
(Kansak recordings, InsomniaFm)
"Nice – Rich Jones remix is the one for me, very funky."
Dj Anjos (England)
(Beautiful Elements Promotions / Yellow Jelly Audio)
"both versions of weight of the hammer are absolutely fantastic! i love this release!"
Jim_Star (Canada)
(www.alicemanagement.com ; no sound ; monique musique)
"Blurry February is a nice techno tune."
Jay Kaufman (Canada)
(Sonambulist, Fullbodysoundsystem, 19Box Records/Park Muzik, Tortoise Shell Recordings)
"NICEEEEEEEE"
George Kyrimis (Greece)
(blackhole, vandit)
"Fat bass! Should work well for mid set"
Mike Hiratzka (USA)
(Lost Angeles Recordings)
"Goooood. I like it."
Giuliano Rodrigues (Brazil)
(Dj Felipe Frotta, Dj Help, Orbita Music, Reverbnation, Itunes)
"solid!"
Spesh (Jondi & Spesh) (USA)
(Loöq Records, Loöq Radio, Qoöl, Jondi & Spesh)
"NIce groove!!!"
Liluca (Colombia)
(AnjunaBeats, AnjunaDeep, Proton music, Add2basket, EMI, Silk Sofa, Nightshade Music, Stripped)
"great tracks"
s007ii – subRoutine (Canada)
(RK2 Podcast / friskyRadio / DI.FM / 1mixRadio)
"Rich Jones remix!"
A.Koch (Kazakhstan)
(DK bar, Almaty )
"Nice work!"
Aaron Lee (USA)
(Giant Squid Recordings/Ultramusique/Nightshade Records/Twenty40 Nightlife/Pure.FM)