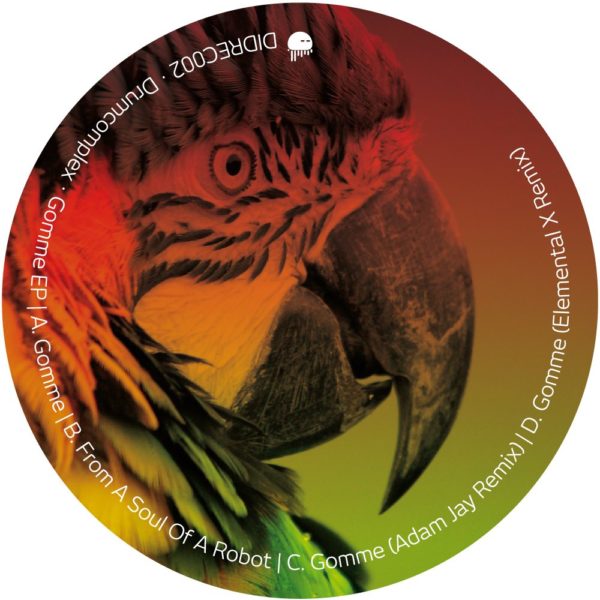 Our second release comes packed with four techno bombs.
First is Drumcomplex's Gomme, which has already gained heavy support and heavy airplay from techno meister Dave Clarke, on his charts and his White Noise Radio Show. A fantastic configuration of metallic beats and ever interesting arrangement, that leads to a roomy breakdown where a electro-ish synth enters in the game to create an euphoric atmosphere. This is a dance floor bomb already tested and approved. Early support by Funkagenda, Aldrin, Jody Wisternoff and Dave Clarke.
Second track is called From A Soul Of A Robot, and it resembles a story told by a machine without soul. More electro synths are found on this techno stomper that is for sure another dance floor killer. Early support by Angel Molina and Joshua Collins.
Then we have the Gomme remixes, the first comes straight from Indianapolis, from techno genius Adam Jay, who's coming back hard and solid. Cutting edge techno with traces of the old guard. The breakdown of this track will give goosebumps anytime anywhere. Early support by Deepchild.
The second Gomme remix comes from Sao Paulo, and its from Elemental X, a mental alternative, but not less stomping techno version, where the electro-ish synth of the original is exploited to the limit. Early support by Angel Molina.
Trailer
Selected feedback
Anderson Noise "Full Support"
Angel Alanis "Great Stuff, thanks"
Angel Molina "Stories from a Soul….. and Elemental X rmx do for me, thanksss!!!!"
Dave Clarke "great ! thanks will play in clubs and radio for sure"
Deepchild (Resopal Schallware / Trapez) "Nice. Heavy hittin' main-floor shizzle"
Funkagenda "cool track"
Henry Cullen (DAVE The Drummer) "Very cool tracks Loving the Adam Jay mix Featured it on my recent Dj mix on soundcloud cheers H"
Jody Wisternoff (Way Out West) "Heavy, like it !!"
Lady B (F Communications / Musique Moderne) "good picktime track"
Namito "like the adam jay mix!"
Rich Jones "Liking the original Gomme, but my pick is the Adam Jay Remix. Tasty groove!"
Stanny Franssen "Nice dancefloor tracks! Original 'Gomme' and the remix from 'Elemental X' are my favo's".